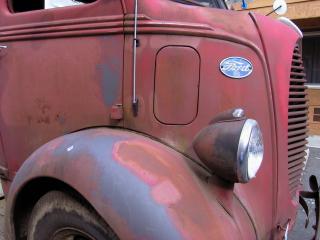 We returned from the Island Challenge yesterday and Dan and Irene caught the 7:00 Coho back home. Their truck was the star of the show. Its a marvelous thing. The flat deck on the back slants down and their speedster unloads off the back. We had excellent weather going up to Cowichan, on the tour, and on our way back. Hope I am over my nasty cold by next week end when we go on the Can-Am tour. The Patina Truck sits in our drive way awaiting the run next week end.

I loaded the Raven Affair series to my page and am working on May.

I added a few figs to the rum pot. Hope they taste ok.

I need to get a rhubarb root for my garden as I killed the last one. It was so wimpy and produced this watery blah rhubarb. I would like to find some lily bulbs, more crocuses for the front, and anything else that I might take a liking to. The front is a bit bare where the trees were taken out. If I put a hedge along the edge I should have room for a row or a few lilies in front of it. The lilies need good drainage.